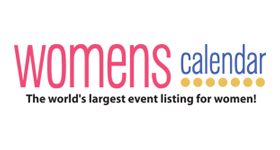 WomensCalendar
The world's largest event listing for women!
WomensCalendar is owned and operated by Women's Online Media and Education Network (W.O.M.E.N.) and has been online since 1998, which for those of you who remember, was before the internet was "the internet".
W.O.M.E.N. has managed a variety of online promotional and syndication-focused websites and tools for over 20 years, including the longstanding audio/video streaming and podcasting service, AudioAcrobat (founded in 2004), WomensRadio, which has been giving women and all people a greater voice through internet radio since 1995 and WomensCalendar, the world's largest event listing for women, also since 1998.
In 2015, after having been online for 17 years, the WomensCalendar site switched from being a ".org" to a ".com", and along with it came a literal tidal wave of updates and upgrades, including a transformation into being a smart calendar that can talk to other calendars, pull in and distribute out multiple events automatically through calendar feeds and be embedded onto other websites and blogs using the Super Widget.
Other notable smart calendar features include the integration of Google Maps, the ability to upload images, embed audio / video, direct visitors to purchase tickets or visit the event website and a one-click solution for visitors to subscribe to as much or as little of the calendar as they like, in the calendar of their choice (Google Calendar, iCal (Apple), Outlook, Timely, etc.).
At the adolescent age of 20, WomensCalendar has also come to be quite social, in that events are now auto-tweeted via the @WomensCalendar Twitter account, posted to the WomensCalendar Facebook page and are displayed on-site with a variety of notable social sharing buttons for effortless and beautiful social promotion.
The WomensCalendar team has been hard at work carving out a variety of new promotional posting options that were not previously available, including the ability to post as many events as one wishes for FREE; the posting of Featured Events for fast and effective promotion, which prominently displays these events on the WomensCalendar Home Page as well as the Featured Events Calendar for a mere $10/event.
In addition to posting events one-at-a-time, WomensCalendar also offers (3) Sponsorship levels: Small Business, Leadership and Enterprise, all of which include pulling in and featuring sponsors' entire calendar feed for 30 days, prominently displaying Medium Rectangle (300×250) and Leaderboard (728×90) banner ads on-site, sending custom Tweets and Facebook Posts via WomensCalendar promoting your business and/or event(s), a featured profile on the WomensCalendar Home Page and Blog and, of course, post-sponsorship analytics.
Another top-tier level of opportunity offered specifically to nonprofit organizations for FREE is that of being a Featured Organization. Included in this opportunity is a radio interview with W.O.M.E.N. CEO / Founder, Pat Lynch, prominent placement of your organization's logo on the WomensCalendar / WomensRadio sites and social promotion on various W.O.M.E.N. networks, which total over 20k+ fans/followers.
With all of this at your fingertips… nothing can stop you from promoting and having a successful event!