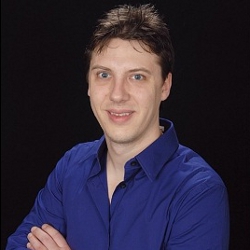 Brian works with W.O.M.E.N.'s technical, sales, marketing, and customer service teams to communicate effective strategies that increase sales and awareness for the company's brands (AudioAcrobat, WomensRadio, and WomensCalendar). Here, he uses his ten plus years of experience in operations, eCommerce, marketing, and customer service management to assess the strengths and weaknesses of these teams on a daily basis, manage the programs accordingly, and deliver meaningful results.
Prior to his role as Director of Communications for W.O.M.E.N., Brian worked for nearly four years as the Sales and Marketing Manager for AudioAcrobat to accomplish sales and marketing objectives by researching, analyzing, and adapting a comprehensive series of multimedia and in-person marketing / advertising campaigns. He achieved sales and marketing goals by preparing budgets, scheduling and analyzing expenditures, and variances and initiating change when needed. His daily efforts were focused on continually driving and increasing sales by regularly acquiring new business, following up with existing clients regarding latest discounts, products, and services and regularly administering customer training classes and webinars.
When Brian joined W.O.M.E.N. in 2006 as AudioAcrobat's Customer Service Team Leader, his focus was to provide quality and efficient customer service to clients through management of employees and the development and refinement of both systems and technique. He expanded on this focus by forming and nurturing long-term one-on-one relationships with a client base of twenty-five thousand accounts, many of which now span a lifetime of nearly twelve years.